Apple Day is an annual celebration of apples and orchards, held in October. It traditionally falls on October 21st, the date of the first such event in 1990, but events are held throughout the month. An apple is an edible fruit produced by an apple tree. Apple trees are cultivated worldwide and are the most widely grown species in the genus Malus. The tree originated in Central Asia, where its wild ancestor, Malus sieversii, is still found today.
Apples are one of the most popular fruits — and for good reason. They're an exceptionally healthy fruit with many benefits and they taste good too and best of all, they go with treats like Apple Cinnamon Toast, my personal favorite.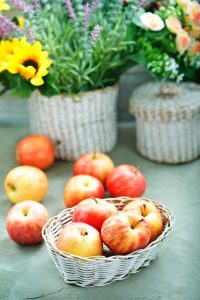 Apple Day events can be large or small, from apple games in a garden to large village fairs with cookery demonstrations, games, apple identification, juice and cider, gardening advice, and the sale of many hundreds of apple varieties.
Here's to thee, old apple tree,
Whence thou mayst bud
And whence thou mayst blow!
And whence thou mayst bear apples enow!
Hats full! Caps full!
Bushel—bushel—sacks full,
And my pockets full too! Huzza!

South Hams of Devon, 1871
Braeburn, Discovery, Red Jonagold, a million varieties with a million evocative names, and each one more delicious than the last. Every year the orchards spill forth a cavalcade of crimson, gold, and green, and it's not just the leaves of Autumn. On the heels of this rolling bounty comes the rich smell of apple pies, spicy ciders both alcoholic and not, and all the tastes and smells of this seasonal treat.
Every year the UK gathers for a celebration of the most delicious harvest of the year and comes together to share the joy and fun of apples. Events range in size from minor to full-blown fairs in villages all over the country, where enthusiasts come together to share recipes for juice and cider, advice on how to properly grow their apples, and information on all the apple varieties available.
First made an official event in 1990 in Covent Garden, this event has been celebrated every year and has grown from a local event to one celebrated all over. It has grown from a simple celebration of the apple to a recognition of cultural and genetic diversity in food that should not be allowed to pass from the world.